Morning Has Broken – Jacki Kellum Acrylic Painting
"In the beginning, God created the heaven and the earth. And the earth was without form, and void; and darkness was upon the face of the deep. And the Spirit of God moved upon the face of the waters. And God said, Let there be light: and there was light. 4And God saw that the light was good, and He separated the light from the darkness.…" Genesis 1: 2 -4
Yesterday, I began recovering my painting studio. During the previous spring, my garden had overtaken it, and I quit painting to work in my garden, and then, my fabrics crept in and overtook my painting table. But yesterday, I struggled with the chaos until I recovered my painting table, and once more, I could see that yes, I would paint again. Morning Had Broken – Again.

Jacki Kellum Studio Morning of January 7, 2022
"Morning has broken like the first morning
Blackbird has spoken like the first bird
Praise for the singing, praise for the morning
Praise for them springing fresh from the world."
I am one of those artists who consistently moves in and out of depression. On one level, Light is the mind overcoming depression and the darkness that depression spreads. So, on that level, light is essential to my work. When I am consumed with depression, I do not paint at all.
This morning, as I walked into my clean and orderly studio, a veil had been lifted. I am invigorated and ready to paint again.
"Praise for the singing, praise for the morning
Praise for them springing fresh from the world."
On another level, light is essential for other reasons. Without light, we would not see the colors that are represented in a painting, and in a very literal way, if I don't have enough light when I work, I cannot see to distinguish what I want to do from what I don't want to do. As I have gotten older, it is difficult for me to get enough light to see to work.
And still on another level, light in art has the power to convey great emotion.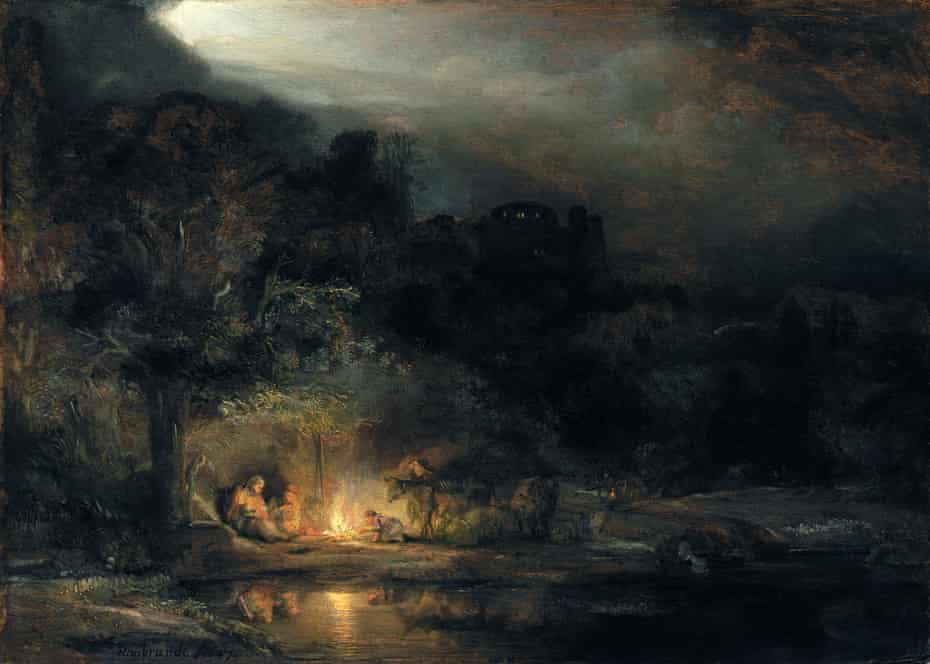 Landscape With the Rest on the Flight into Egypt, 1647, by Rembrandt van Rijn
Rembrandt was a masterful painter of light and of the effects of light. And there have been other great masters who had the ability to capture the essence of light.
For many years, I have loved the oil paintings of John Singer Sargent, and following is an insightful discussion of his painting Carnation, Lily, Lily Rose:
I did not fully appreciate Singer's watercolors until May of 2017. That was when I was brought to tears by his work in the exhibition American Watercolor at the Time of Homer and Sargent at the Philadelphia Museum of Art.
The exhibition was long, and it began slowly with the tired,  pedantic watercolors that were typical of early America, I labored through those pieces, until I came to the final room. That was where I came face-to-face with some of Sargent's paintings of white subject matter. I was stunned. Sargent was undoubtedly a great draftsman. His drawing was flawless, but it was in his use of light that he rose above the herd.
I could say the same thing about a few other artists, and without a doubt, becoming better at the use of light in my art is important me.